What is SEO Services?
Small Business Tips To Buy SEO Services
June 22, 2022 – 09:48 am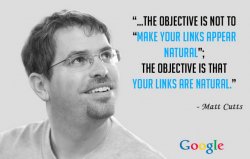 Not all small businesses can afford the time and resources to spend on the optimization of their website, especially once the business starts to expand. SEO is not easy and it is time consuming. Perhaps you are considering to hire someone to do the job: this post will guide you and help you to take the right decision when buying SEO services.
What is SEO? Why You Need It?
Just so that we are clear, there are two types of search engine marketing (SEM) techniques, SEO and PPC (paid ads).
What you see on top of a regular Google search result are PPC ads that are differentiated with a yellow icon that says 'Ad', as shown below:
The regular search results (also known as organic listings) that you see below the ads are the ones that are obtained through SEO. Users of search engines generally believe that the organic search results are highly recommended by the search engine. So, they prefer them more than the ads. That's why SEO is considered an inversion that pays back in the long term.
Correct Reasons To Buy SEO Services
When you do plan to invest on SEO services, first you have to sure whether you need it or not. The first question is, do you really need SEO services? Are they profitable for your business?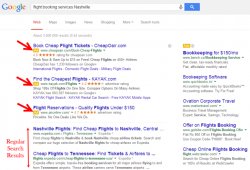 Start by listing out what you want to achieve out of your SEO services, so your SEO investment is driven in a certain direction.
Let me help you with some sample ideas below:
Beat current search position of a potential competitor.
Get more search traffic.
Get more visibility for your brand.
Get sales.
Once you have a target to achieve out of SEO you must choose what is the best option for you if you feel you cannot do it your self: you can hire a SEO for your time (in house or freelancer), an SEO agency or someone who can train your staff to handle it.
Getting your staff trained in-house can be a good option in the long run, as you do not have to depend on a third party all the time. However, you can hire an SEO provider, always after a thorough background check. We will talk about this more below.
Busting Fake SEO Claims
There is all kind of SEO companies out there – the good, the bad and the ugly. Some shady digital marketing companies may urge you to buy SEO services from them based on fake claims. Let bust some pf such claims that small business owners usually are unaware of when they buy SEO services.
Pay Your Way To Organic Listings
Oh no you don't. Organic listings are free. The regular search results you saw up there do not cost you money. An SEO company can only charge you for their consultancy and services that will help you to get in the organic listings for the searches that are optimal for your business. They can offer you services such as technical audits, link building, visibility actions or social media promotion.
Popular Q&A
What services does Adelaide Bank Online offer?
Adelaide Bank offers a wide range of opportunities online such as loans and joining the bank. They offer a wide range of loans as well as refinancing.
Related Posts