Free SEO Directory
Top Ten Free Business Directories - Off Page SEO
October 6, 2019 – 01:45 pm
To improve your Google Page Rank, it's important to get good quality links to your website. A simple and very cheap way (free, except your time) is to add your site to various business directories. We have collected a list of the ten best business directories to register with. They vary in the features on offer, so it's best to try them all!
Make sure you add a link to your website.
Don't pay to get a listing, unless you really think it will pay dividends.
When registering, consider using an email address you don't mind getting spam email in.
You'll need a copy of your logo in jpg or png format.
Make sure you write unique content on every directory, don't cut and paste from your website.
Google My Business
The number one place to get a listing for your business is Google My Business. It was formerly known as Google Places and as the most popular Internet search engine in the UK you must get yourself listed here.
The ability to add photos, opening times and reviews are just some of the features available to the discerning business owner.
Yell
Yell, soon to be Hibu, offers a comprehensive business listing. As well as featuring in Google searches, your business will appear in all yell.com searches and in the mobile app version of Yell.
Listing is easy and you can add a vast number of keywords in the Services/Products section. Also worth doing is adding your social media links and of course your main business website.
FreeIndex
FreeIndex has been in existence since 2003 and offers a great place to list your business. As well as links, the site is crawled regularly by the Googlebots and your listing will appear in Google search results within 24 hours.
By completing more of the profile questions you business ranks more highly within the FreeIndex website. Customer reviews will propel you to the top.
Lacartes
This is a relatively new business directory, but it is well respected by Google, and you can expect to be listed on it very promptly. It has a very professional look to it, and you can even add a header photo to make your listing look very smart indeed.
Make sure you add all your keywords in the Offering section to get your business found.
Scoot
Scoot powers the business directories of The Independent, The Sun, The Mirror and Touch Local. So getting yourself listed here makes sense. Although you don't get a free link to your website, you do get them to your social media profiles.
Source: www.wingnut-websites.com
You might also like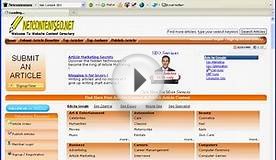 Net Content SEO - Free Reprint Articles Directory Submit ...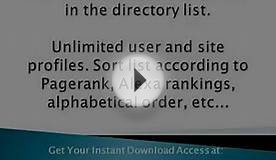 Free Directory Submitter To Boost Your Link Building & SEO ...
Search Engine Manifesto


Mobile Application (Rohit Seth)




Search engine optimization
search engine marketing,
seo techniques
building link
seo analysis
Popular Q&A
What is directory in SEO?
Directory is the collection of various web sites in the respective categories. Directory is also called as web catalog. If anyone is getting listed his/her web site in to a directory then he/she will be getting dual benefit i.e. listing in that directory and a link back to his/her web site. Submissions in the directory is the part of off-page optimization in search engine marketing.
Also, most of the old directory are optimized and indexed on regular basis by search engines. So, when the link is included on such directory. The chance of your pages getting indexed is higher.
There is a…
Related Posts